Anti-Tip Device

I find that over 70% of the inspections I perform have have freestanding ranges that are missing this important safety feature. But what is so sad is that this device comes free from the manufacturer, and in most cases the homeowners (sellers) usually go right to it, when I tell them that if they still have the Installation and/or Owners Manual the chances are they still have the bracket. And a quick look into the famous plastic bag with the manual most times reveals the device.
On April 2, 2002 in Los Angeles, 2-year-old Edwin Campos and two of his young cousins were critically injured when they accidentally tipped over a kitchen stove and were doused with a pot of scalding water.

"In the best case scenario, this boy will have years of reconstructive surgery," states Peter Grossman, a Los Angeles burn specialist who is caring for the toddler. Inside Edition reveals many similar accidents over the years when children have caused stoves to tip and investigates why these tragedies continue to occur.
Quote from Consumer Affairs
Manufacturers have, for many years placed WARNINGS clearly on the range as well as in the Owners Manuals similar to the image above. However we seem to just not see them. Chances are if you are standing in front of your oven door and open it, you will see the WARNING at where the door to your range rests against the range.
Anti-Tip brackets are also shipped with many refrigerators. So also check yours to be sure that an Anti-Tip bracket was not required by the manufacturer.
To date I have not found a manufacturer that has stated to me, that the Anti-Tip bracket installation is "recommended". Actually they go out of their way to say things like: "A child or adult can tip the range and be killed" and "Failure to follow these instructions can result in death or serious burns to children and adults." and even "The floor anti-tip bracket MUST be installed."
So what's next?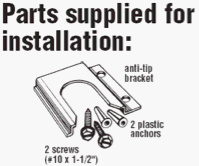 If you have the Anti-Tip bracket, installation is usually very simple and can be done by most any homeowner with just a couple of hand tools. However, if you do not then you have two choices:
Call the manufacturer of the range and order a replacement.
Visit your local hardware store like Lowes or Home Depot.
If you cannot install the device yourself, contact an appliance repair firm or local handyman to arrange for an installation. The cost usually ranges (no pun intended) from $50 to $125.